The Brendon Ham Band
With over a decade of paying their dues, the Brendon Ham Band has certainly honed their sound and style and Brendon is certainly proud to have these guys as his wingmen upon the stage.
Often asked who are the biggest influences for the band, well it really is the honesty of a few generations of real music. Our musical influences and heroes are many and spread across a range of genres. Although country music is the true spirit of the Brendon Ham Band, each member contributes their own style and influences.
The Brendon Ham Band
Brendon Ham - Vocals/acoustic guitar
Steve Rowlands - Bass/vocals
Pete Bayliss - Guitar/vocals
Mike Abbott - Drums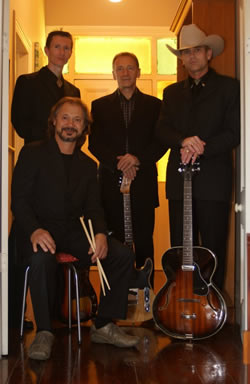 L-R Steve Rowlands, Gordon Joll, Pete Bayliss and Brendon Ham